To track activities generated by your distributed videos and emails, you can get statistics to all contacts in your distribution lists.

Statistics enable you to spot exactly who shows interest in your content and brand. It keeps a record of who clicked and read your emails and viewed your videos.
Find out statistics to a video
If you want to know more in-depth statistics to a specific video, go to your Clips list and find the video you want to check out.
Quick stats
To the listed title you find a quick overview of stats to that clip. This tells you the number of plays of a video, downloads, number groups added to the distribution list and the total number of users that have been given access to the video. Clicking each icon will take you to more in-depth information.



Add single user to access clip
If someone contacts you saying they don't have access to a certain clip, this is where you can quickly search the email address and add the user, should they not be in the list. Click the User icon to open the list and select Actions and Add user.

In-depth stats
Entering statistics via the quick stats Play or Downloads icon allows you to find out more about who has access to, and who has viewed a video. You can also reach the in-depth stats via the settings icon to the title.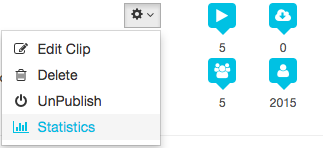 The statistics page contains three tabs containing different stats;
1. Plays
Views - number of visitors to a page.
Plays - number of clicks to play a video.
Downloads - number of downloads of videos.
Engagement ratio - a percentage of engagements (plays/views).
The list of emails below shows who has played your video.


2. Notifications
Sent - Number of emails sent.
Recipients - Total number of recipients to the distribution list.
Opened - number of recipients who have opened the email.
Clicked - number of recipients who clicked the email.
The list of emails below show who has opened/clicked the email.

3. External channels
If the clip has been pushed to your social media accounts, this tab displays activities to your SoMe platforms.
Overall statistics to a Screening Room
Go to your Screening Room and click Statistics in the left side menu. This is where you find your overall Screening Room performance, including total number of views, plays, downloads and notifications sent to all listed videos.
Views - number of visitors to a page.
Plays - number of clicks to play a video.
Downloads - number of downloads of videos.
Notifications - number of emails sent about videos.


Each title is listed below for a quick overview of statistics to a certain program. Viewed shows the engagement ratio to the specific clip.