Visuals are an essential part of any website message and design so make sure to add images and video to your pages.
Regardless the page - working with images and videos gives you the opportunity to make the most out of your message and grab your visitors attention. They also break up the text and make your page a more engaging experience.
How to embed images
Find the spot in the text where you'd like the image to appear and place your cursor there and click the image icon in the text editor bar.


Insert the image by choosing Upload. Either browse for the image or drop an image into the pop-up window image field. Click Save.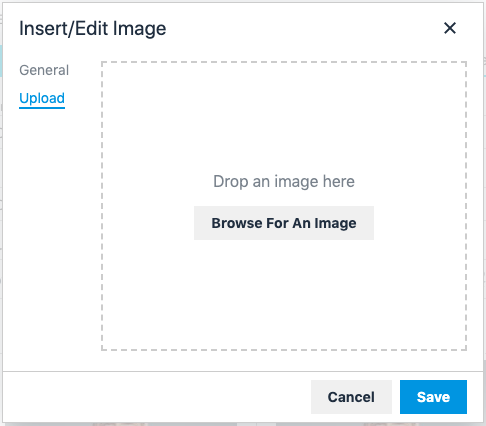 Image size
The dimensions of the original image you upload can have a big impact on how it displays. We recommend using images that are at least 1200 pixels wide.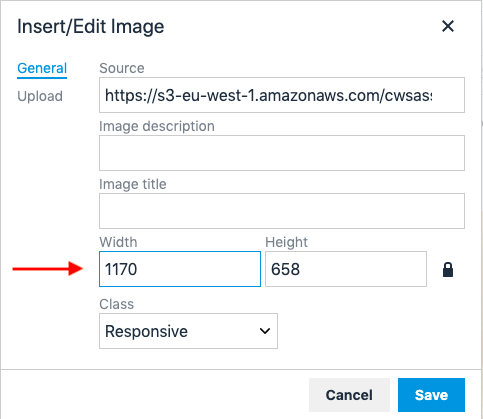 Images can be manually re-sized in the image manager but if images uploaded are smaller than 1200 pixels, they may appear blurry or pixelated when they stretch to fill the column (column is 1170 pixels wide). Images smaller than 1170 pixels that are not resized will be displayed in their original size.
How to embed video
Embedding a video is either done by adding a snippet of code or by adding a URL. Either way pulls the video from the original source (the video is not uploaded and hosted on the Clipsource platform).
Copy and paste embed code
The embed code is found on the platform where your video is available. The below explains how you find an embed code from Youtube.
Go to the YouTube video you want to embed.
Under the video, click SHARE.
Click Embed.
From the box that appears, copy the HTML code.

Find the spot in the text where you'd like the video to appear, place your cursor there and click the media icon in the text editor bar.



Paste the code into the Embed field and Save. You're good to go.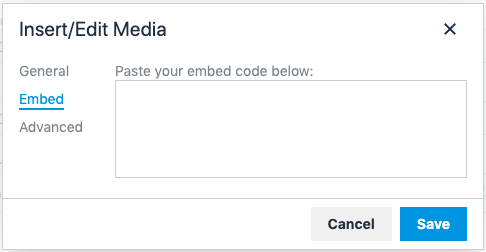 Insert video URL
Sometimes all you need is the video's URL and for many popular video hosting platforms, including Vimeo and YouTube, you don't need the full embed code. You can simply copy-paste the URL of the video into the embed code field and the text editor will automatically embed the video for you.