Contact cards allows for listing all your main company contacts with relevant contact information plus image. Contact cards can then be added to separate pages.
In addition to name, role and contact details you can add SoMe channels, email link plus links to external pages.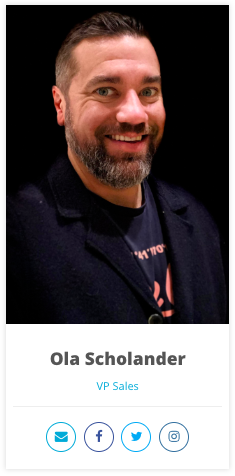 How do I get started?
1. Enter the Website module and select 'Contact cards'.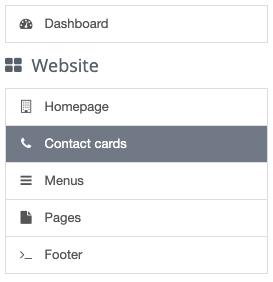 Create sections
If you have many contacts you might want to start by defining different sections, such as Management, Advertising, Brands etc. You add a section by clicking the button to the top right in the Section tab. Name your section and click 'Create'.

Create new contact
Enter Contacts tab and click the top right button. Fill the relevant fields with information. The card will adjust in height depending on how much information is added so in case contacts are listed together, you might want to fill in the same fields.
Section - Choose a section you want to add the contact too.
URL and URL text - allows for adding a link. URL text is the link name displayed to the contact card.
SoMe accounts - add links to your social media accounts. Links will be displayed with SoMe icons for Twitter, Facebook and Instagram.


Include Contact Cards to a page
All your contacts will be listed under 'Contact cards' in the admin section to Pages. To display contacts to a page, check the box/es and save.