Video errors may be caused by a number of factors. Try the following if you can't play videos:


1. Restart your web browser.
2. Clear your cache.
3. Make sure your browser is up to date (see below what browsers/versions are supported by the player).
4. Check your browser settings and make sure there are no extensions that block videos.
5. Try signing in from a different browser.
6. Make sure your network doesn't block e.g. video streams.
7. Try to connect to another network, e.g. by disabling wifi on your smartphone and try to play the video.
If you're still having issues, contact us and we'd be happy to look into the issue. Please be sure to include the following:
1. Your browser type and version.
2. A link to the video you're trying to play.
3. A screenshot of the video error.
Desktop browsers
The following desktop browsers are currently supported by JW Player 8.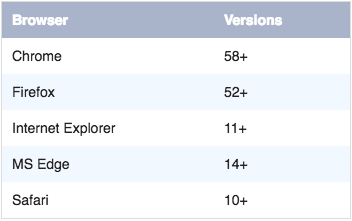 Mobile browsers
This table lists which mobile browsers are officially supported by JW Player 8 using HTML5.