Admin access is set to the separate admin tools, hence an admin user who should work with the full range of tools needs to be given access to all modules.

Adding admin users and managing access is done by anyone at your company who has the admin role Administrator in the platform.


Where do I add admin users?
Enter your Dashboard and go to Users in the left side menu.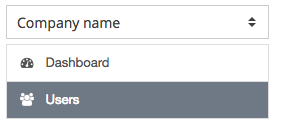 Enter user details
Click the Add user button to the right upper side and enter email address. Choose the Role of the admin;
Administrator - admin access including adding new admin users.
User - admin access but can't add new admin users.
Select what tools the admin user should be able to access and manage. Click Add.

How to access admin pages
To access the admin section, users login via this page:
https://clipsource.se/login?referer=clipsource.com


The Dashboard icon appears at the top right of the page. Click the icon to reach the Dashboard. A new admin user needs to log out and log in again for the icon to appear.


Update admin access
If you want to update admin access to a user, simply click the user name in the admin list, make the changes and Update.