Your program catelogue is managed in Mediabox. Even though integrated with existing asset management systems and automatically updated, program information can be manually created and updated.

Mediabox contains your program content and metadata. This is where you edit the content if you want to make updates to information and presentation. Manually adding or updating a program in Mediabox basically works the same way regardless if it's one program, or a series with multiple seasons and episodes.
Create program
Open Mediabox, enter the series or program tab and click the blue button to the right to create a program.



1. How to add Series
Series is added as a parent serie, also adding season and episode level. Start by adding specific parent series information in the pop-up and click Create.

Updating program information
If you want to make updates to the added program information you click the edit icon next to the title.

1.2 Related media
Related media to a program can consist of for example images, videos, trailers, logotypes and documents. You can upload files on all levels; parent serie, season and episode level.
1.3 Upload related media
Upload files via the tabs below the program information. You identify the tab by the tab header. To update information to an already uploaded file, click the settings icon to that file and chose Update.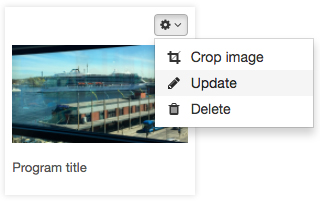 1.3 Related media in press room
To make related media, such as images for example, available and downloadable in your press room front end you need to update the files. Activate ON to Visible on PressWeb, to make images and other files to allow for download of the file. This is for related media to all levels.




1.4 Send image via EPG API
To set what images are to be sent via EPG API, activate 'Send via EPG API' and update.
1.5 Poster images
To understand how poster images work and how to manage poster images, see 4.1 Poster images below.
1.6 Request media
If you need a specific file and can't find it in MediaBox you can request it. Click Request media and make your request. Upon clicking send, your request will be sent to the responsible admin/s and who will be able to add the file and inform you when it's available.


2. Create season
Add season by clicking the blue button to the right and adding the requested information. Click Create. If you have several seasons you can go back to parent season level and add them one by one. Season title will by default be the same as parent series title. Season title can't be edited.

2.2 Season related media
Add related media on season level by clicking the Related Media link and uploading files. See 1.2 Related media above to find out how to work with related media files.


3. Create episode
Click the button on the right to add an episode to a season. Fill in the requested information and click Create.
Update episode information
If you want to edit the information, click the edit icon to the right of the episode. Entering the episode you have the possibility to add episode specific data, such as origin, genre and credit. To update episode specific data, click the episode number.


3.1 Search episode
You can search an episode by entering episode number in the search field. You can also sort listed episodes from low to high episode numbers (and the other way around) by clicking the sort button to the right.

3.2 Episode related media
Upload related media files via the tabs below the program information. You identify the tab by the tab header. See 1.2 Related media above to find out how to work with related media files.


4. Poster images
To make the presentation of your program more visually appealing you can add a poster. Different posters can be added on parent serie, season and episode level - one per level. The system first checks for an episode poster. If that doesn't exist it checks for a season poster and finally, parent series poster. This fall-back allows for automatically adding generic posters to seasons and episodes where no season and episode related posters are available.
4.1 Manage poster images
Go to related media (at any level) and the Images tab. Enter settings to the image you want to use as poster and set the image to 'Poster' by activating ON. Click Update.
If you want to fine-tune your poster image you can crop it by choosing Crop in image settings.

5. How to add Programs and Movies
Adding a program is done the same way as adding series, minus the levels. The program information is more or less the same as information added to an episode.