There are three ways to upload files to a screeningroom - it can be done via the backend interface, by adding videos from Mediabox (wherever MB is available) or via FTP, using an FTP client.

Files larger than 1 GB can only be uploaded via FTP. FTP upload is also a way for external partners, such as production companies, to upload content to a screeningroom.

FTP upload
Uploading via an FTP account you need to use an FTP-client. We recommend Filezilla. It's free of charge and it's very easy to use. It can be downloaded here.
Send upload guide to external partners
To allow production companies or other external partners to access and upload files to a screeningroom you can send the manual via email, see Email manual below.
Supported formats
See What formats do you support? on what formats can be uploaded.

1. Upload files
Depending on your choice of upload, this is how it's done.
1. 1. Upload clip via backend
Smaller clips can be uploaded via the backend interface. Maximum size to these files are 1GB. Go to Upload Clip in left side menu and Choose file. Click Upload and wait for the progress bar to reach 100%. The file is now being transcoded and will soon be available in the clip list.
1.2. Upload clip via FTP
Larger files are uploaded via FTP. Upload details to a screening room are found in Account profile in the left menu to the ScreeningRoom. Go to the last tab - FTP Accounts - to download or send the manual.

Opening Send manual allows you to download FTP details to your desktop and also send the details to whomever should have access to upload files.
Download manual
Click the download manual link to download to your desktop.
Email manual
Enter the email address of the person to receive the manual and click Send. The manual contains all information needed in order to upload files.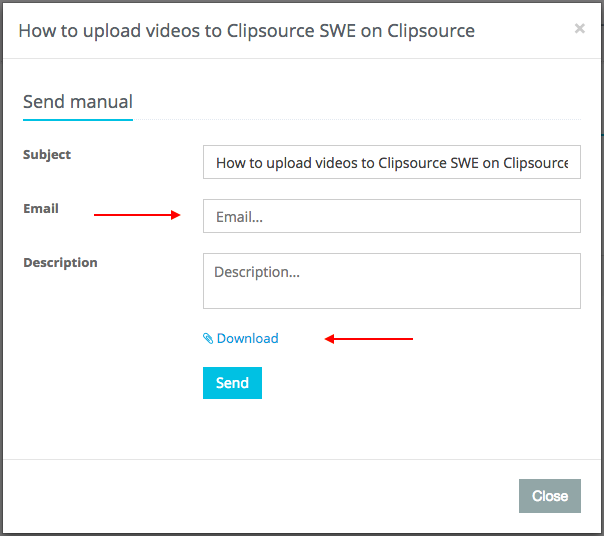 1.3. Add clip from Mediabox
If you have access to Mediabox you can add videos from MB to show in your screening room. Find the program by selecting from what category you are adding the video and choose the specific season/episode (if a series) and title. Click Add.


Are you an external partner/production company looking to upload files?
To get hold of the correct FTP details to a screeningroom/channel, talk to your contact at that company.