You can create as many groups as you want, slicing and dicing, creating lists for different purposes. Grouping contacts makes it easier to direct your information to the right people.

Note! Even if your contacts are part of multiple groups/distribution lists, they will only receive one email.
Enter Dashboard and open the Media Center or Screening Room module. Click Contacts in the left side menu.

1. Create groups
Enter the Groups tab, click the Add/Create groups button to the right and give the group a name and description. Click Create.

2. Add contact to a group
All your contacts are listed in the contact tab and the group tab lists contacts per group. You work in both these tabs to create new lists as well as managing your existing ones.
2.1. Search contacts individually
Search a contact by entering the email address in the search field. Mark the contact you want to add to a group and choose Add selected to group in the 'Actions' list.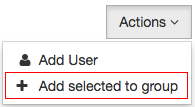 2.2. Search contacts by company name
If you want to group contacts by company name, easiest is to search for a domain name in the email address list. First you need to display all available users by clicking Load All users at the bottom of the list. Mark the contacts you want to add to a group and choose Add selected to group, according to above. Click Add.


Importing contact lists
You can import contact lists to both the Media Center and the Screening Room.
If you want to know how you import your contacts, see How can I import contact lists?